Melvins / Redd Kross – Australia Tour Nov. 2017!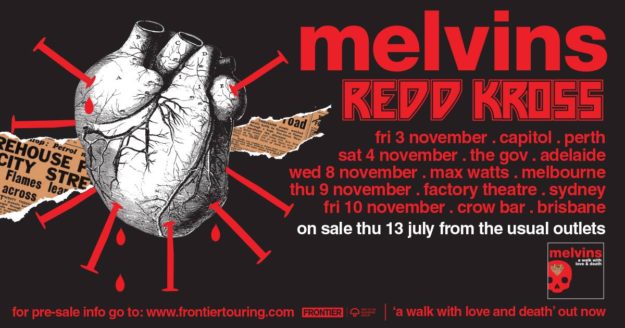 RETURN TO AUSTRALIA FOR NATIONAL TOUR THIS NOVEMBER
WITH SPECIAL GUESTS REDD KROSS
Frontier Touring are pleased to announce the return of the one and only Melvins to Australia this November, touring their first ever double album A Walk With Love and Death. Joining the bill will be legendary LA rockers Redd Kross, making their first visit Down Under in four years.
'ON DEATH, MELVINS SIGNATURE AMALGAM OF STICKY, BLUDGEONING RIFFAGE UNDERPINS SPACEY FORAYS INTO PROG, CLASSIC ROCK AND BALL-TRIPPING PSYCHEDELIA … A SUMPTUOUS FEAST OF PURE, UNCUT HEAD CANDY' – 4/5, METAL HAMMER
'(REDD KROSS) ARE DEFINITELY ONE OF THE MOST IMPORTANT BANDS IN AMERICA.' – THURSTON MOORE