Redd Kross "Third Eye" Pendants by Vicki Berndt Available Now!
HOT! Become a full fledged Faith Healer!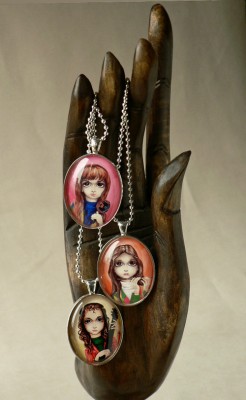 Berndt Offerings now has Redd Kross "Third Eye" pendants by the amazing Vicki Berndt.
Order your faves: Jeff, Steve, or Robert; or get the full set of 3 at a discounted price.
Click here for details or to order yours now.
These beautiful pendants feature reproductions of my original paintings from the Redd Kross Third Eye album. The frames are 2 inches (5cm) high. They come with three 24 inch (60cm) ball chains. The pendants are made from silver toned metal with a glass bubbles protecting the artwork. This is costume jewelry. Only our faith is real…