San Diego Reader Jam Session with Steven McDonald

It's not often that you can chat with a 45-year-old who can relate tales about hanging out with the likes of Black Flag and The Descendents when both of those bands were in their infancy. That's because Steve McDonald was practically an infant when his own band, Redd Kross, got their start in 1978. The kid was only in middle school! Besides playing bass in Redd Kross, McDonald also currently holds down the low-end for the ferocious Keith Morris-helmed hardcore outfit OFF!.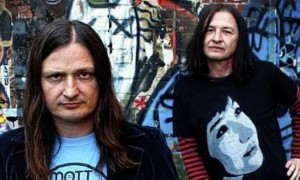 When Redd Kross went on the rocks in the late 90s, Steven went back to rock school in an effort to learn more about the technical aspects of recording music and also how to play like a pro. One unique feather in his cap is producing and engineering the first fun. album, Aim and Ignite. I caught up with McDonald last week via phone to chat about their upcoming show at The Casbah, the recording of their new album, life during band hiatus, and the possibility of a middle-class existence as a rock musician. We also chatted about past Redd Kross San Diego shows a bit, at which point he told me that it was at a concert in this very city circa 1997 that then drummer Brian Reitzell informed the band that he wanted to leave the group, an action that lead to a band hiatus which would last until 2006. Hopefully history chooses not to repeat itself this time around.