From KEXP: Live at Bumbershoot 2013, Day 3: Redd Kross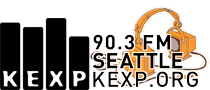 text by Gerrit Feenstra and Jake Uitti
Today, we welcome punk legends Redd Kross to the Music Lounge. Jeff and Steve McDonald have been around the block and back, both as Redd Kross and as the Tourists, staying alive through three decades of changes to the scene and still bringing a visceral show to the stage. Last year, they dropped their first record in fifteen years, Researching The Blues, through Merge Records, and they've most recently toured alongside Dinosaur Jr.
After growing and performing alongside other punk heroes like Black Flag and Circle Jerks through the 80s and surviving through most of the 90s, Redd Kross took a hiatus towards the end of the decade. In 1999, the death of guitarist Eddie Kurdziel put the future of the band further into limbo. But in 2006, the band slowly returned to the stage, building steam through a string of California dates and then moving out across the country once again. With a batch of new songs fresh out the door, it's the perfect time to see the McDonalds once again and remember the raw power that this band can pack.
[satellite gallery=3 auto=on]
As Redd Kross set up for the show, complete with a beat up red guitar, their songs booming and bright, it was clear the KEXP music lounge was ready to fill with sound. Heck, we'd be lucky if the doors stayed on their hinges. "I'm super pleased to kick things off with a bang," said the stylish KEXP DJ Kevin Cole, donning a sharp black vest. "Please welcome Redd Kross!"
"Alllright!" shouted bassist Steven McDonald, in black t-shirt, hand through long brown hair. "Are you ready to do this!" The crowd cheered and just like that the set began.
Click here for the full recap and photos.